31 Days of Walking with Grief: Others' and Our Own
Day 26—The Struggle of Moving On
This is a month-long series to support persons grieving and those who love them. It includes content from "Sharing Our Stories: A Hospice Whispers Grief Support Workbook" available through Amazon and wherever books are sold.
I love lists and formulas. I'm a good student. Tell me what to do and I'll do my homework and check off the list and be done!
If only life, and grief, was quite so neat and tidy.
Having patience with our grief is often hard, and of course we want to hurry up and not feel sad, angry, lost, scared, overwhelmed, distracted, and exhausted anymore. I think this lack of patience with our own mourning is part of the reason we struggle to be present with others in theirs.
So, for everyone's sake, let's look at this concept of moving on.
The "it takes a year" thing is a myth…
One of the great, enduring, and completely erroneous myths about grief is that it takes about a year. Some research shows the acute stage of grieving can be over for many in 3-6 months while for others it can last much, much longer. Many factors can contribute to this variable timeframe.
Grief expert, William Worden (2002), proposed 7 Mediators of Mourning, including:
relationship to the deceased (spouse, co-worker, etc.)
nature of the relationship (secure, dependent, ambivalent, etc.)
cause of death (natural, traumatic, unknown, etc.)
history of other loss (unresolved family dynamics, personal and familial struggles, etc.)
other stressors (financial, familial, work, etc.)
individual factors (age, gender, culture, personality, esteem, coping, etc.)
social factors (support, engagement in activities, other relationships, etc.)
Each person's unique circumstance can strongly influence how hard and deep and long their acute stage of grief may be. There is no shame in any of this. It is meant only to help understand and even predict what a mourner might expect and the type and amount of support they may need.
It is not a set formula, but an invitation to see each loss as unique. One might ordinarily expect the acute stage of grief, which is a period of distraction and likely disturbance of sleep, activity, work, etc., to be resolving around 6 months (though that does NOT mean that the grieving is over!) However, if there are other factors that come into play, this resolution of acute grief may take longer.
For instance, if a death involved an autopsy that left loved ones in uncertainty for months about the cause of death, this may delay the grieving process and open it anew when answers are finally received. The circumstances are complicated, but this does not mean that the grief process being a bit longer is in any way inappropriate, given those circumstances.
"I was surprised to find the second year was actually, in some ways, harder…"
Some persons are often caught off guard when they experience the grief of the first year and feel ready to begin moving on with life, just to find that the second year is actually harder, in some ways. No matter how much we understand about grief, that blasted year time-line gets stuck somewhere in our expectations, and sets some up for a shock.
But it's more than that. Past the anniversaries, we move into "firsts" without our loved one there. The pockets of grief that arise with this are often not anticipated or even noticed by persons around us, so we have even less support than we did in the first year.
One woman shared:
"I thought I was good! I passed the one-year anniversary, which was hard as I remembered the sights and sounds and smells of the season and in some ways relived what I had been doing the 365 days before and how painful it was. But I was mostly okay! And then…
It was the first year of my adult life that he wasn't a part of. I went to my first party without him by my side, received my first holiday cards addressed only to me, had persons asking me if I was ready to date which was something I hadn't even considered in over 20 years. Triggers were everywhere that second year, and I wasn't prepared for it.
I started moving even further into a life without him. As much as I wanted and thought I was ready for moving on, it was like I had to grieve letting go of my grief, which was one of my few connections left and another way of having to let go of him, if that makes sense."
Another friend, during the recent holidays, commented on January 1st about how stunningly hard it was to move out of 2016, the last year in which he had his husband with him. By going forward into 2017 alone, he said it was just as painful as if he had moved out of the home they had shared for their 48 year relationship. It was the first year in his adult life without the love of his life by his side, and it was surprisingly hard to make that one more step away from him.
There's nothing wrong with you…
You may not experience this. But if you do find that each new step forward also has its own moments of grief, please know that there is nothing wrong with you. It is an understandable part of the process. If you're stuck in your grief, which only happens about 10-15% of the time, you'll usually know it. I'll write more about that in a future post in this series.
For now, please hear this as a gentle reminder to be gentler with yourself and each other than you think you might need to be as you move into a fresh new start. As sweet as the new often feels, it is a new that is coming without the one you still wish was available to see and touch and hear, and the bitterness of that can easily dampen the moment.
When others do not understand this, it can send this part of your grief underground, leaving it disenfranchised. That which goes underground and is borne in solitude, can sometimes gather a sense of shame around it, even if cognitively we know that shame is not warranted.
Find safe places, other people who will understand or at least try, to share these bittersweet moments with. Just as your loved one is worthy of being remembered by you, still, your pain is worthy of being supported and cared for.
Peace,
Carla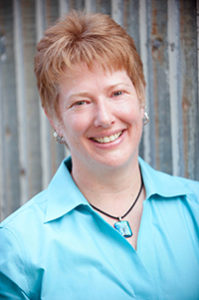 Rev. Carla Cheatham, MA, MDiv, PhD, TRT has served hospices as a chaplain and bereavement coordinator. She's the Section Leader for the Spiritual Caregivers Section of the National Hospice and Palliative Care Organization and an adjunct professor at the Seminary of the Southwest. Through her Carla Cheatham Consulting Group, Carla provides training and consulting for professional caregivers nationwide. She is the author of Hospice Whispers: Stories of Life and its companion volume, Sharing Our Stories: A Hospice Whispers Grief Support Workbook. Her next book, On Showing Up with Suffering: Others' and Our Own, is set to publish in 2017.